Fish quenelles in sauce
A traditional French recipe from Lyon, quenelles can be served as a starter or main dish. With nantua and cream sauces, accompaniments, tips, and more.
(As an Amazon affiliate, we may earn commissions on purchases. See our disclosure policy for details.)
This Recipe includes
Main ingredients:
| | |
| --- | --- |
| | All-purpose flour – to make the quenelle dumplings |
| | Eggs – to bind the flour together |
| | White fish – mashed fish like pike or merlu hake fish are blended into the flour in the traditional recipe |
| | Butter – for flavor |
| | Water |
| | Salt |
For the sauce:
| | |
| --- | --- |
| | Crème fraîche – heavy cream that is used the sauce base |
| | (Optional) seafood butter sauce – to mix in with the cream for a fish flavor |
| | Nutmeg – for a mild spice of flavor |
| | Shredded cheese – Cheeses like gruyère or emmental to top off the quenelles |
Why we love it
If you are looking for something different, but still something easy to make, the quenelle is perfect. This traditional French recipe features a small flour (and fish) dumpling, covered with a rich sauce and cheese.
Quenelles come from the city of Lyon, and the dish was originally created during times of hardship when food supply and meats were rare. However, it became so popular as a starter and a main dish, that it became part of the regular dinner menu.
Quenelles can be served as a starter or as a main. In general, an adult will require at least 2 quenelles, served alongside other dishes like rice or tagliatelle. Although the quenelle is very similar to a dumpling, it does not have a filling inside.
The quenelles themselves can be made in advance and stored in the fridge until you are ready to cook them.
Cream sauce or Nantua sauce
Quenelles are traditionally served in a nantua sauce that is made from heavy cream mixed with a seafood butter. The seafood butter is just blended into the sauce for a fishy taste.
However, seafood butter sauce is not the easiest to find, so more often than not, you can just skip adding it and the cream sauce will taste just as good 😉 Alternatively you can make a béchamel sauce to go on top of the quenelles.
What to serve with it?
The traditional quenelle is dish that became popular historically during food shortages in France. As such, it is usually served with plain rice as a main dish.
However, if you want to add a bit more meat to the dish, you can add sausages, meatballs, or even baked pork chops to your serving.
How to store it?
If you want to store quenelles, I recommend freezing the quenelles in dough pastry form (before cooking in the oven).
Freeze the quenelles in an airtight container in the freezer and when you wish to eat them, let them defrost in the fridge for a few hours before putting them in the oven to cook.
Similar recipes
If you like this recipe, you may also like: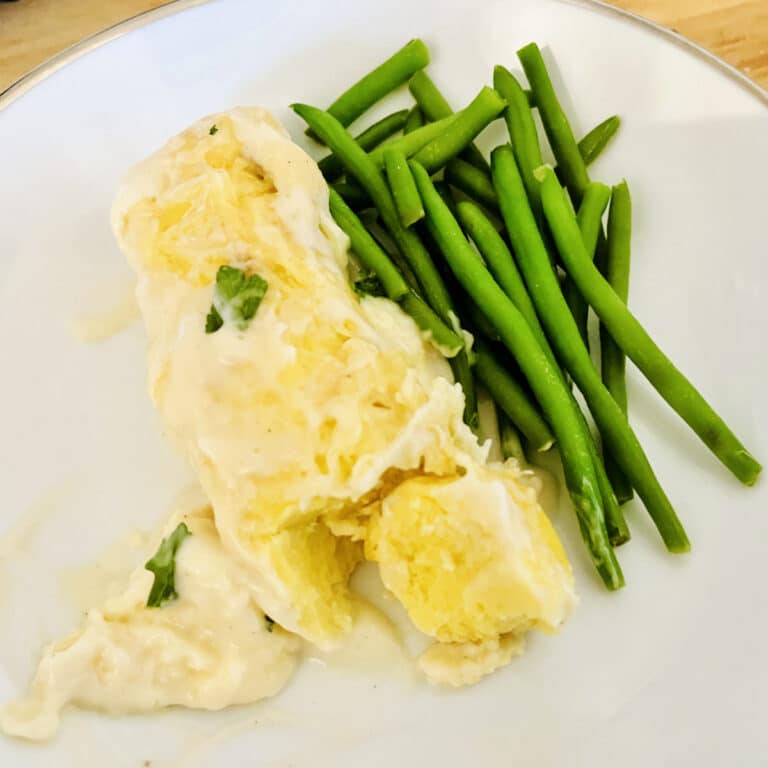 Fish quenelles in sauce
Additional Time:
30 minutes
Total Time:
1 hour
40 minutes
Traditional lyonnaise quenelle recipe, nature or with fish for lunch or dinner.
Ingredients
For 8 Quenelles
175 g of flour (approximately 1 cup 1/4)
3 tablespoons of butter
1 cup of water
3 eggs
pinch of salt
250 to 300 g of white fish (eg. pike or merlu hake fish)
For the sauce
1/2 teaspoon of grated nutmeg
40cl of crème fraîche (2 cups of heavy cream)
1/2 cup of shredded gruyère cheese (or emmental)
(Optional) 1 tablespoon of seafood butter sauce
Instructions
Add the water, butter and salt to a casserole pan and heat at a low temperature.
When the butter is melted, add the flour, and cook for 10 minutes over low heat, stirring constantly.
Off the heat, add the eggs and stir as the mixture is cooling.
Cut the fish into small pieces and remove any bones.
Blend the fish in a blender, and then hand mix it into the dough mixture.
Place the dough on a floured work surface and flour your hands.
Once cool, take a portion of the dough with a spoon and and form small round sausages in a silicone mold tray.
Put the quenelles in the fridge for a 1/2 hour or so that they hold together well.
Remove the quenelles from the mold and place in a deep dish baking tray.
Preheat the oven at 360°F (180°C°)
In a bowl, mix the heavy cream with seafood butter sauce.
Cover the quenelles with the cream sauce, cheese and sprinkling of nutmeg.
Place in the oven for 35 minutes.
Serve warm.
Nutrition Information:
Yield:

8
Serving Size:

1
Amount Per Serving:
Calories:

16327
Total Fat:

715g
Saturated Fat:

115g
Trans Fat:

0g
Unsaturated Fat:

502g
Cholesterol:

7316mg
Sodium:

6251mg
Carbohydrates:

17g
Fiber:

1g
Sugar:

0g
Protein:

2301g
Note: We are not certified nutritionists and these estimates are approximate. Each individual's dietary needs and restrictions are unique to the individual. You are ultimately responsible for all decisions pertaining to your health. This website is written and produced for entertainment purposes only.
Other seafood recipes
If you enjoyed that, check out our other classic recipes that are easy to make. Bon appétit!