10-Minute Ramen soup with spinach and mushrooms
Get the quick and easy one-pot recipe for ramen noodle soup with spinach and mushrooms. With accompaniments, tips, and more.
(As an Amazon affiliate, we may earn commissions on purchases. See our disclosure policy for details.)
This Recipe includes
Main ingredients:
| | |
| --- | --- |
| | Mushrooms – white button or cremini (brown) mushrooms, but you can also use shitake or button mushrooms. |
| | Spinach – any type of fresh baby spinach or regular spinach. If using frozen spinach, cook it in the bouillon for 5-7 minutes longer. |
| | Asian-style ramen noodles – any type of dried or fresh ramen noodles |
Spices and flavoring ingredients:
| | |
| --- | --- |
| | Soy sauce – regular or low sodium soy sauce that is salty, not sweet. |
| | Shallot – shallot or scallion flakes is the easiest but you can also use fresh if you prefer. |
| | Garlic – garlic powder or flakes |
| | Paprika – smoked paprika for flavor |
| | Brown sugar – to offset the flavors of the soy sauce. |
| | Vegetable or chicken stock – any type of vegetable or chicken broth. You can also use a stock cube with water. |
| | (Optional) Chilli powder – for a bit of spice |
| | Pinch of salt and pepper |
Why we love it
On those days when you are in a hurry, but still looking for something healthy, this one-pot ramen soup with spinach and mushrooms makes for a deliciously easy dinner.
Ramen is an asian dish that consists of wheat noodles or egg noddles served in a flavored broth that also serves as a soup. Ramen often comes with those mysterious flavor packets, but since it is not really clear what is in them, I make my own flavoring.
The broth is the real star of this dish, and in this case I've used spinach and mushrooms since neither particularly needs to be cooked and it can all be made in one pot.
I like to boil the vegetables with the bouillon to infuse maximum flavor, and then add in the noodles at the end so that they don't lose their chewiness and get overcooked.
You can also decide to add meat to the recipe if you want, just cook it advance before adding it into the ramen soup. Because the ramen is in a soup, you will want to serve it soon after cooking, as it will loose its texture if it sits for too long in the hot liquid.
What to serve with it?
Ramen soup with mushrooms and spinach is great as a one dish meal, but you can also serve it with a mixed green salad with balsamic vinaigrette or some fresh spring rolls.
How to store it?
The ramen noodles will lose their chewiness if you freeze them, so I don't really recommend it. If you drain the soup liquid from the noodles, you can freeze it in an airtight glass container for up to a month. But indeed, fresh is best.
Similar recipes
If you like this recipe, you may also like: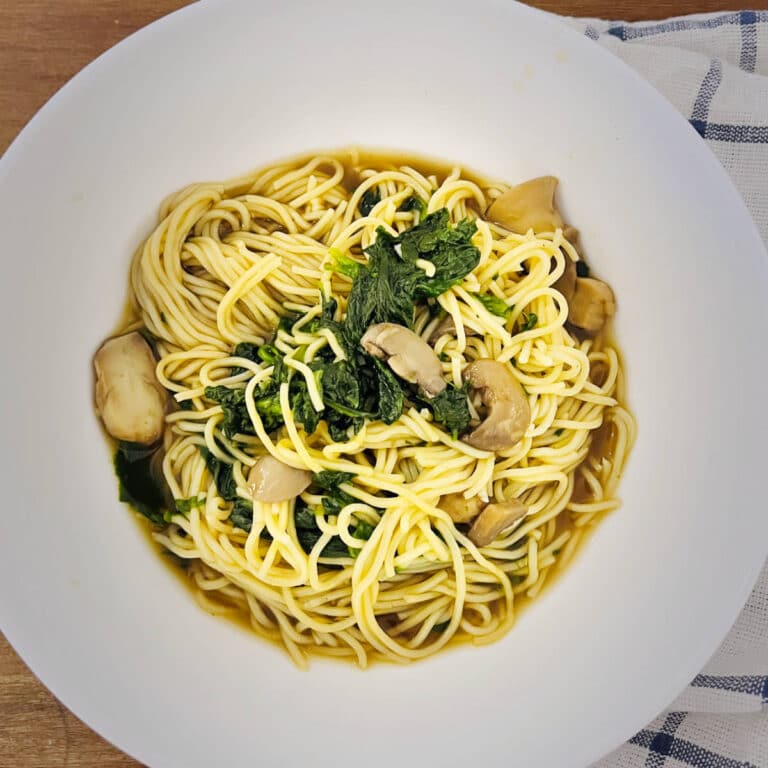 Ramen soup with spinach and mushroom
Ramen soup with spinach and mushroom is one of those healthy dishes that is wonderful for those busy week nights when you want dinner in a hurry.
Ingredients
1 cup of chopped mushrooms
2 cups of fresh spinach
1lb (500g) of ramen
2 teaspoons of garlic flakes
1 teaspoon of shallot flakes
1/2 tablespoon of paprika
4 tablespoons of soy sauce
1 teaspoon of brown sugar
1 cube of vegetable or chicken stock
4 cups of water
pinch of kosher salt and black pepper
(Optional) 1/2 tablespoon of chilli powder
Instructions
Add 4 cups water into a pot and heat at high temperature until just before boiling.
Place the spinach and mushrooms into the pot along with the rest of the ingredients (except for the ramen) and cook for 5 minutes. (If using frozen ingredients, cook longer until it looks appropriately cooked).
Stir the ramen into the pot and cook for an additional 4 minutes, as per ramen packet instructions.
Serve while warm.
Nutrition Information:
Yield:

4
Serving Size:

1
Amount Per Serving:
Calories:

311
Total Fat:

10g
Saturated Fat:

3g
Trans Fat:

0g
Unsaturated Fat:

6g
Cholesterol:

59mg
Sodium:

1714mg
Carbohydrates:

39g
Fiber:

5g
Sugar:

6g
Protein:

17g
Note: We are not certified nutritionists and these estimates are approximate. Each individual's dietary needs and restrictions are unique to the individual. You are ultimately responsible for all decisions pertaining to your health. This website is written and produced for entertainment purposes only.
If you enjoyed that, check out our other classic recipes that you can make easily. Bon appétit!