Homemade Beef and Spinach Quiche
This delicious beef and spinach quiche recipe that for an easy lunch or dinner that the whole family will love. With tips, accompaniments, and more.
(As an Amazon affiliate, we may earn commissions on certain purchases. Please note, information provided is for entertainment purposes. See our disclosure policy for details.)
This Recipe includes
Main ingredients:
Deep pie crust – deep pie or pizza crust for a bacon and mushroom quiche, as a thin crust may get too soggy with the egg mixture.
Eggs – to hold the quiche together.
Minced beef – fresh or frozen minced beef
Spinach – fresh or frozen regular spinach. You can also use baby spinach.
Spices and flavoring ingredients:
Greek yogurt – any type of normal or low-fat greek yogurt. You can also use sour cream if you wish.
Paprika – for a spice mix
Garlic – garlic powder or garlic flakes
Basil – dried basil, or fresh basil if you have it
Why we love it
Beef and spinach is always a popular combination, and it is no surprise that it works quite well in a quiche as well. A bit of protein and veggies and you have a healthy dish that can be served on any occasion.
The key is to cook the beef in advance because it will not cook sufficiently in the oven. The egg and the pie crust will cook much faster so it is much simpler to cook the beef on a stovetop first and then put it into the quiche.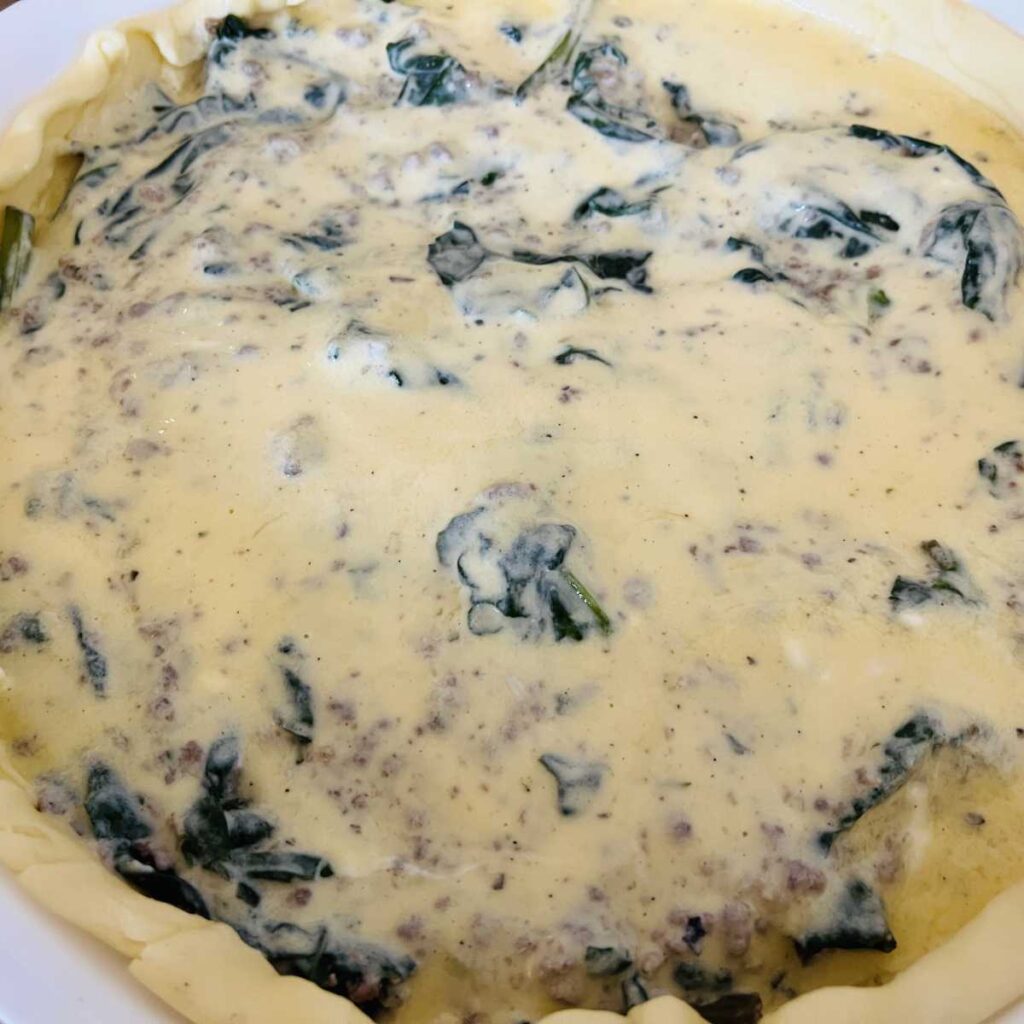 Frequently asked questions
1. What to serve with it?
You can serve this beef and spinach quiche with a soup such as homemade carrot soup. You can also serve it with a salad such as this apple feta salad with red onion or a spinach caesar salad.
2. Can you prepare it in advance?
Yes, you can prepare this beef and spinach quiche at least a day inn advance. Wait for it to cool to room temperature before putting it in an airtight container in the fridge.
You can also freeze the quiche mixture and use an already frozen crust before filling, so that it won't absorb as much moisture.
If you like this recipe
Beef quiche with spinach
An easy French quiche recipe with beef and spinach that can be served for lunch or dinner.
Ingredients
1 deep dish pie crust
4 eggs
200g of minced beef
2 cups of fresh spinach
4 tablespoons of greek yogurt
1 teaspoon of garlic powder
1/2 teaspoon of paprika
1 teaspoon of dried basil
Pinch of salt and pepper
Instructions
Preheat the oven at 180C (375F).
Place the pie crust on a baking pan and pierce lightly all over with a fork (around 2 inches apart).
Beat the eggs and greek yogurt in a large bowl.
Cook the minced beef in a frying pan along with the spices, for a few minutes until it is no longer red.
Add the spinach in with the beef and lightly sauté in the frying pan as well.
Add the cooked beef and spinach into the egg mixture.
Spread the mixture across the pie crust.
Place in the oven for 45 minutes or until the top crust is browned.
Serve while warm.
Nutrition Information:
Yield:

8
Serving Size:

1
Amount Per Serving:
Calories:

251
Total Fat:

15g
Saturated Fat:

5g
Trans Fat:

0g
Unsaturated Fat:

9g
Cholesterol:

139mg
Sodium:

184mg
Carbohydrates:

14g
Fiber:

1g
Sugar:

0g
Protein:

13g
Note: We are not certified nutritionists and these estimates are approximate. Each individual's dietary needs and restrictions are unique to the individual. You are ultimately responsible for all decisions pertaining to your health. This website is written and produced for entertainment purposes only.
If you enjoyed that, check out our other classic recipes that you can make easily. Bon appétit!