Instant Pot Coq au vin without wine
Get the classic Coq au vin recipe, made in the Instant Pot without wine and alcohol. With accompaniment suggestions, tips, and more.
This Recipe includes
| | |
| --- | --- |
| | Fresh or frozen boneless chicken |
| | Fresh or frozen white mushrooms (cremini), bella mushrooms or oyster mushrooms. |
| | Chopped or sliced white onion is preferable. |
| | Chopped fresh or frozen carrots |
| | Chopped fresh or frozen celery |
| | (Optional) Bacon, chopped pieces to add a ton of flavor. |
| | (Optional) Potatoes, if you want to make it a one dish meal. |
| | (Optional) Spinach for that extra dose of vegetables |
Spices and flavoring ingredients:
| | |
| --- | --- |
| | Garlic powder or crushed garlic cloves |
| | Parsley |
| | Thyme |
| | Bay leaf |
| | Chicken liquid stock or chicken cube stock in water |
| | Pinch of salt and pepper |
Accents for the sauce:
| | |
| --- | --- |
| | Abricot, peach or pear juice for a touch of sweetness |
| | Apple cider vinegar |
| | Butter to sear the bacon |
| | Flour to thicken the sauce |
Cooking tips
Chicken thighs and legs are preferable in a coq au vin since they have more flavor when slow cooked or pressure cooked. But boneless chicken is easier to serve, so you can use either.
Frozen ingredients are fine in a coq au vin because the Instant pot automatically increases the heating time. The dish is traditionally slow-cooked for hours, so letting the juices meld together longer will only made the dish better.
Coq au vin typically uses a bouquet garni, which is usually a range of herbs that you have at home. If you don't have a bay leaf for example, you can substitute and compensate with other herbs.
Since this recipe has no alcohol, apple cider vinegar adds that touch of flavor for the sauce. The coq au vin will be too sweet if you skip this step.
While the bacon or pancetta is optional, it adds a lot of flavor to the dish. You can also use ham or sausages, if you wish.
Celery and carrots are traditional ingredients in a French coq au vin, but don't hesitate to throw in other vegetables like spinach, potatoes, etc.
Why we love it
In France, legend has it that the coq au vin dates back to the time when Julius Caesar and the Romans had invaded France. A slow-cooked old chicken for hours in a luscious wine sauce to bring out the flavors. It is quite similar to the beef bourguignon recipe which also is slow-cooked for hours to tenderize the meat.
With the Instant pot however, this is an easy recipe to launch even on a weeknight, while enjoying time with family and friends. You can even make it in advance the night before and keep it in the fridge, since the coq au vin always tastes better the next day.
Cooking without wine
Coq au Vin in French translates literally to "Chicken in Wine". The traditional recipe includes 1/3 cup of wine and 1/4 cup of cognac.
The theory is that the alcohol should cook off in the cooking process. However, if you want to avoid alcohol, I'm going to replace it with fruit juice and a couple of tablespoons of apple cider vinegar.
What to serve with a coq au vin?
The traditional French accompaniment with Coq au vin is mashed potatoes or tagliatelle pasta. And there are many other possibilities as well such as white rice, polenta, or even bulgur.
But my favorite is long-grain brown rice. It is drier and less sweet than some other accompanying dishes, and so I find it goes really well. (I usually have my rice cooker going at the same time.)
How to store it?
This is one of those recipes that tastes better the next day. You can easily put aside portions in a sealed container and put it in the freezer.
Similar recipes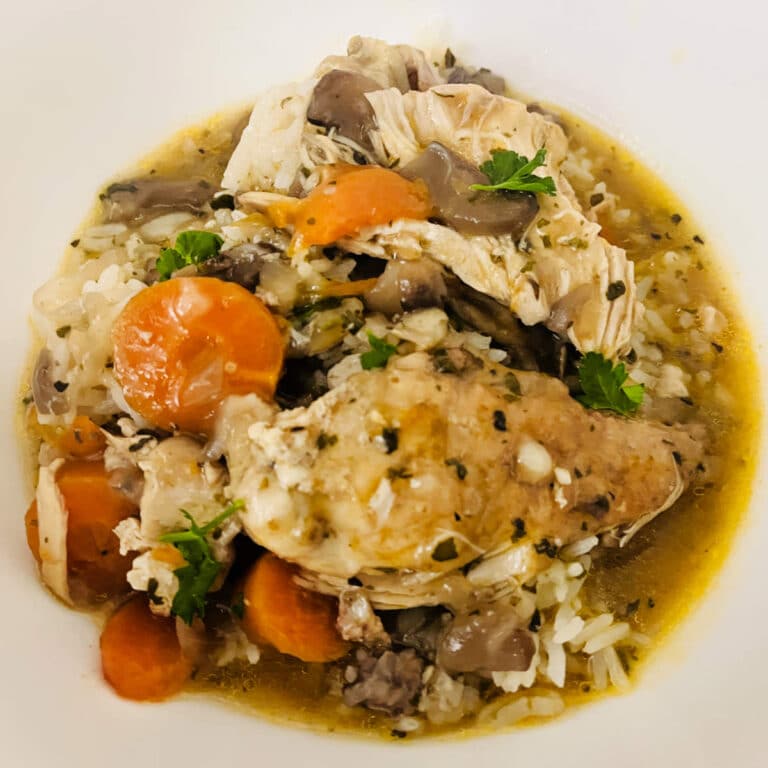 Instant Pot Coq au vin without wine
A traditional French chicken stew (Coq au vin) with a ton of veggies but without wine, for a delicious meal for the full family.
Ingredients
3

pounds

of Chicken

approx. 8 pieces of thigh and leg

6

strips of bacon sliced into small pieces)

1

cup

of sliced white or button mushrooms

1

onion chopped up

1

carrot sliced

2

cubes of chicken stock

bouillon mixed into 2 cups of water.

1

garlic clove chopped up

4

sprigs of thyme

4

sprigs of parsley

1

chopped celery stick

1

bay leaf

2

tablespoons

of butter

2

tablespoons

of flour

2

tablespoons

of apple cider vinegar

1

cup

tomato sauce

or 1/2 cup tomato paste

Optional 6-8 Baby Potatoes

Optional 2 cups of spinach

Salt and pepper to taste
Instructions
Add the bacon and butter in the Instant pot and sauté for about 5 minutes.

Add the rest of the ingredients (except the flour), and set the Instant Pot to High Pressure for 45 minutes.

Once the countdown has finished, let the pressure release naturally for 10 minutes.

Mix in the flour with a tablespoon of water to make a slurry. Add the slurry to the Instant Pot.

Press the Sauté button again for 5 minutes to let the sauce thicken.

Let the Coq au vin rest for 10 minutes on the Keep Warm function.

Taste to add salt and pepper if necessary.

Serve while warm.
Nutrition
Serving:
1
g
Calories:
881
kcal
Carbohydrates:
22
g
Protein:
83
g
Fat:
50
g
Saturated Fat:
16
g
Polyunsaturated Fat:
29
g
Cholesterol:
314
mg
Sodium:
851
mg
Fiber:
5
g
Sugar:
5
g
Other Chicken recipes
If you enjoyed that, check out our other simple Instant pot recipes that are quick and easy to make. Bon appétit!