Oven baked BBQ chicken drumsticks with green beans
Get the recipe for bbq chicken drumsticks baked in the oven for an easy weeknight dinner. With accompaniments, tips, and more.
(As an Amazon affiliate, we may earn commissions on certain purchases. Please note, information provided is for entertainment purposes. See our disclosure policy for details.)
This Recipe includes
Chicken – you can use any type of chicken, but I'm using drumsticks in this recipe.
Green beans – fresh or frozen green beans. (Trim the stem end of the green beans, if it has not already been removed.)
BBQ sauce – you can use any type of bbq sauce you have. I like Kraft Hickory Smoke Barbecue Sauce or any type of BBQ Sauce which is less sweet.
Soy sauce – soy sauce, or tamari sauce for gluten-free
Garlic – garlic powder is the easiest to use to rub into the chicken, but you could use crushed garlic as well.
Red chili powder – for that lovely red color
Onion powder – to reduce the sweetness
Dried coriander – can use fresh coriander or parsley as well.
Dried basil – for flavor
(Optional) Cayenne pepper – if you like a mildly spicy flavor
Why we love it
When looking for a bit of comfort food, there is nothing like a good BBQ chicken. And to make sure there are enough for everyone, there is nothing like serving up a batch of chicken drumsticks. Especially if it is game night or a picnic potluck.
But we don't have to wait for a special occasion to make these bbq baked drumsticks, they are quick enough and versatile enough for a regular weeknight dinner.
Now, just slathering on the bbq sauce will leave them a little dried out and too sweet. Instead I like to marinate them for a few minutes before baking and add the bbq sauce at the 1/2 way point so that the chicken gets a chance to cook properly.
I also like to toss a vegetable in like green beans to cook with the bbq chicken, at the same time as the sauce goes on. Putting the beans in at the halfway point usually means that it won't overcook or burn.
Chicken and vegetables in one dish, to make for an easy clean-up! If you prefer, you can also prepare these drumsticks in the air fryer following the recipe here.
Frequently asked questions
1. What to serve with it?
Oven baked chicken drumsticks with green beans can be served with just about any side. Some ideas include sautéed garlic potatoes or a baked cheesy potato gratin.
2. Can you freeze it?
Yes, if you want to freeze it, I recommend doing so before the chicken is cooked. Place the marinade and the chicken drumsticks in a large freezer bag, and lay the drumsticks flat in the freezer (not lying on top of each other).
If you like this recipe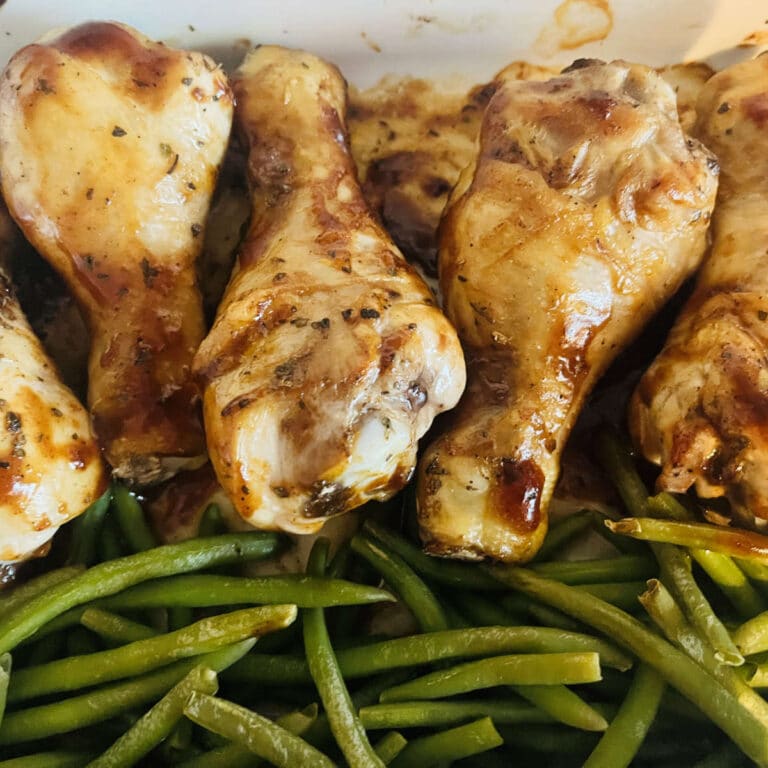 Oven baked BBQ chicken drumsticks with green beans
Bake BBQ chicken drumsticks and green beans quickly in the oven, with this easy recipe.
Ingredients
8 chicken drumsticks
1 cup of fresh green beans*
1 cup of bbq sauce
1 tablespoon of soy sauce
1 teaspoon of garlic powder
2 teaspoons of red chili powder
1 teaspoons of onion powder
1 teaspoon of dried coriander
1 teaspoon of dried basil
(Optional) 1 teaspoon of cayenne pepper
pinch of salt and pepper to taste
Instructions
In a large mixing bowl, mix the spices together (excluding the BBQ sauce).
Add the chicken into the bowl and rub each one generously with the spice mixture.
Place in the fridge for 10 minutes to allow it to marinate.
When ready to cook, preheat the oven for 350°F (180°C)
Place the chicken in a cooking tray and cook for 25 minutes, flipping the chicken over every 10 minutes or so.
Take the tray out of the oven, and carefully cover the chicken with bbq sauce using a spoon to rub it in.
Add the fresh green beans into the pan and let the sauces from the chicken cover them.
Place the baking tray back in the oven and cook for another 15 minutes.
Serve while warm.
Notes
* If using frozen green beans, place them in the microwave and defrost them for 1-2 minutes, depending on your microwave.
Nutrition Information:
Yield:

8
Serving Size:

1
Amount Per Serving:
Calories:

234
Total Fat:

9g
Saturated Fat:

2g
Trans Fat:

0g
Unsaturated Fat:

5g
Cholesterol:

116mg
Sodium:

481mg
Carbohydrates:

15g
Fiber:

1g
Sugar:

12g
Protein:

22g
Note: We are not certified nutritionists and these estimates are approximate. Each individual's dietary needs and restrictions are unique to the individual. You are ultimately responsible for all decisions pertaining to your health. This website is written and produced for entertainment purposes only.
If you enjoyed that, check out our other classic recipes that you can prepare easily. Bon appétit!