Instant Pot Tandoori Chicken Drumsticks
Get the recipe for tandoori chicken drumsticks in Instant pot, a delicious Indian dish that the whole family will love. With accompaniments, tips, and more.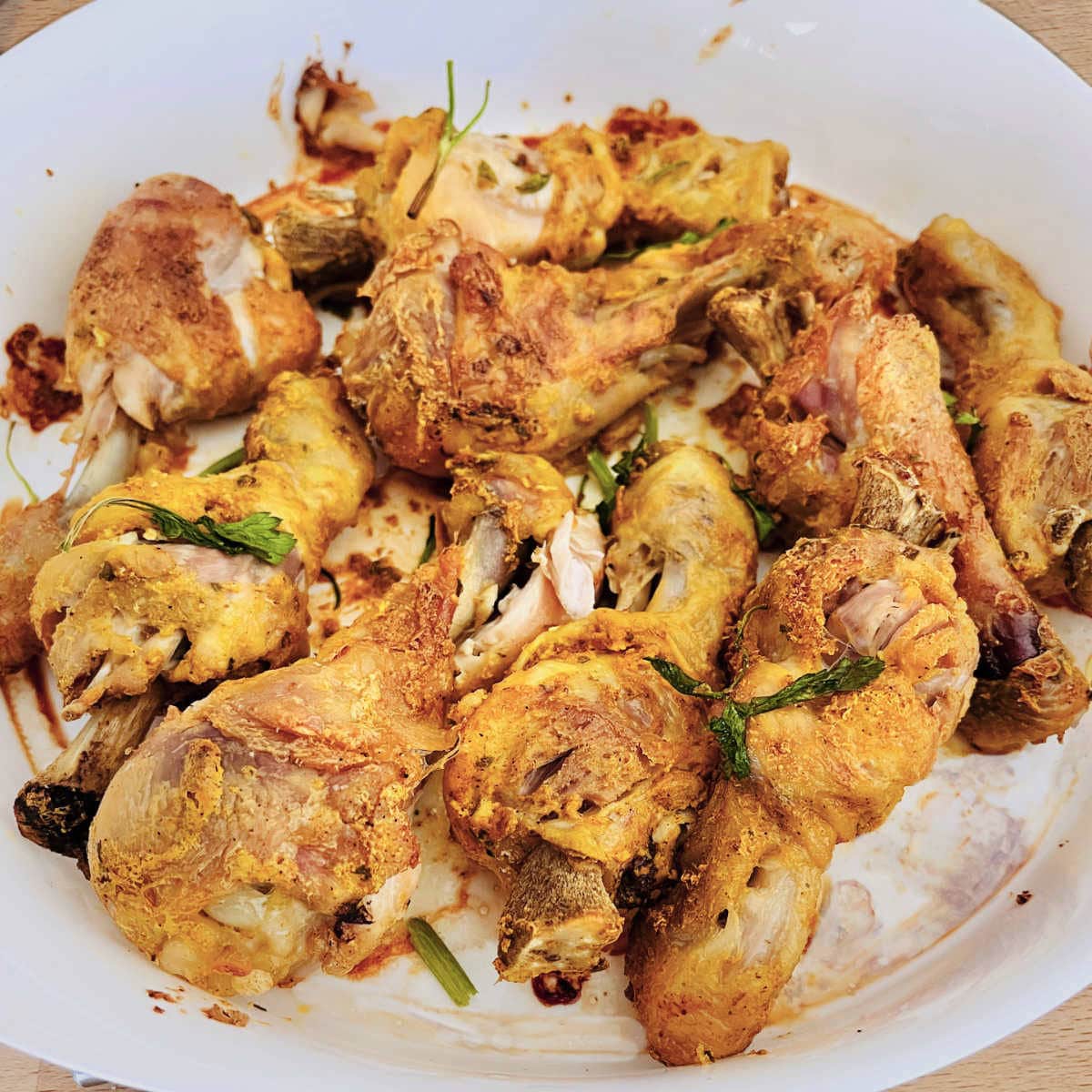 (As an Amazon affiliate, we may earn commissions on certain purchases. Please note, information provided is for entertainment purposes. See our disclosure policy for details.)
This Recipe includes
Chicken drumsticks – you can use any type of chicken, but I'm using drumsticks in this recipe.
Plain – regular yogurt, low-fat yogurt, or even greek yogurt will do as long as it is plain. You can also use heavy cream, if you wish.
Garlic – garlic powder is the easiest to use to rub into the chicken, but you could use crushed garlic as well.
Red chilli powder – for that lovely red color
Dried coriander – can use fresh coriander or parsley as well.
Turmeric – traditional ingredient for flavor
Ground cumin – for a bit of heat
Garam masala – for more heat (garam means warm, and masala means spice)
Ground ginger – for flavor
Cayenne pepper – if you like things really spicy
Why we love it
When it comes to easy and delicious Indian chicken recipe, the tandoori chicken is always a huge favorite. It's simple to make at home and gets its flavor from a variety of spices including coriander, cumin, paprika, turmeric, and garam masala. All of these ingredients are available at your local grocery store, frankly even if you are missing 1 or 2 of the ingredients, your tandoori chicken is still undoubtedly going to taste great.
The word "tandoor" comes from the Persian word "tanur," which means oven, and specifically refers to a clay oven. But since we all don't have clay ovens at home, enter the Instant pot for quick and hassle-free cooking.
I should mention though, for that golden brown crisp, you may want to place the tandoori chicken in the oven (or air fryer) for a few minutes as there is no way to duplicate that in the Instant pot. The chicken is still perfectly cooked, but this is just for that added oomph.
Frequently asked questions
1. What to serve with it?
Tandoori chicken is traditionally served with a raita (cucumber and yogurt dish) and plain rice. I usually have my rice cooker going at the same time.
But you can also serve it with naan or even with mashed potatoes, for something different.
2. Can you freeze it?
Yes, if you want to freeze it, I recommend doing so before the chicken is cooked. Place the marinade and the chicken drumsticks in a large freezer bag, and lay the drumsticks flat in the freezer (not lying on top of each other).
If you like this recipe
Instant pot tandoori chicken drumsticks
Cook tandoori chicken drumsticks quickly in the Instant pot, with this easy recipe.
Ingredients
10 chicken drumsticks
1 cup of plain yogurt
1 teaspoon of garlic powder
2 teaspoons of red chili powder
2 teaspoons of garam masala
1 teaspoon of dried coriander
1 teaspoon of turmeric
1 teaspoon of ground cumin
1 teaspoon of ground ginger
(Optional) 1 teaspoon of cayenne pepper
pinch of salt and pepper to taste
1 lemon (to cut into quarters and serve along side)
Instructions
In a large mixing bowl, whisk the yogurt and spices together.
Add the chicken into the bowl and cover each one generously with the yogurt-spice mixture.
Place in the fridge for an hour to allow it to marinate.
When ready to cook, place the cooking rack in the bottom of the Instant Pot.
Pour about half an inch of water into the pot. Make sure the water isn't touching the rack.
Place the chicken on the cooking rack and set the Instant Pot on Pressure Cook High for 13 minutes.
When the timer goes off, let it natural release for 5 minutes.
(Optional) For a crispy outer skin, place for 7-10 minutes in the oven. Grease a baking sheet, then lay the chicken pieces on it at 430°F (220°C), until the outer skin turns golden brown.
Slice the lemon into quarters and serve along side the chicken drumsticks.
Serve while warm.
Nutrition Information:
Yield:

10
Serving Size:

1
Amount Per Serving:
Calories:

191
Total Fat:

9g
Saturated Fat:

3g
Trans Fat:

0g
Unsaturated Fat:

5g
Cholesterol:

117mg
Sodium:

129mg
Carbohydrates:

4g
Fiber:

1g
Sugar:

2g
Protein:

23g
Note: We are not certified nutritionists and these estimates are approximate. Each individual's dietary needs and restrictions are unique to the individual. You are ultimately responsible for all decisions pertaining to your health. This website is written and produced for entertainment purposes only.
If you enjoyed that, check out our other simple Instant pot recipes that are quick and easy to make. Bon appétit!