Ham, egg, and cheese breakfast casserole
Get the recipe for a ham, egg, and cheese breakfast casserole that will make your mornings a breeze. With tips, accompaniment suggestions, and more.
This Recipe includes
| | |
| --- | --- |
| | Deep pie crust – use a deep pie or pizza crust for a breakfast casserole, as a thin crust may get too soggy with the egg mixture. |
| | Smoked ham – any type of smoked ham or jambon cru will do. |
| | Sour cream – sour cream for gluten-free, but you can also use cream cheese. |
| | Eggs – to hold the quiche together. |
| | Cheese – use shredded cheese such as gruyère, cheddar, goat cheese, etc. |
| | (Optional) spinach – fresh baby spinach or regular spinach for nutrients |
| | Salt and pepper |
Cooking tips
Note, if you use bacon instead of smoked ham, it should be cooked beforehand.
Instead of sour cream, you can also vary it up by substituting sour cream with this garlic greek yogurt sauce recipe.
Why we love it
A casserole with scrambled eggs, ham and cheese is one of those hearty breakfasts that everyone looks forward to. I usually prepare it the night before and just leave it in the fridge for the next couple of days to make for a quick morning before having to get out the door.
It doesn't take long to prepare, so it's a great choice for busy families. And the best part of a breakfast casserole is that you can change the ingredients every few days to keep things interesting.
Recipe Variations
The base ingredients of eggs, cream, and pie crust remain the same, so you can easily test out the other ingredients. Some recipe variation ideas include:
Smoked Salmon and cream cheese
Dried tomatoes and black olives
Cooked shredded chicken
Roquefort and pear
Goat cheese and fig
Spinach and feta
Cheddar and brocolli
If you are using frozen or uncooked ingredients, those will need to pre-cook them before using them in the recipe. Items like bacon, sausages, or chicken must be precooked as the crust will rise before they finish cooking, and you may risk falling ill from uncooked food.
Fresh spinach, mushrooms, onions etc. will be much faster and easier to use into the recipe than using ingredients that have to be cooked.
You can also alternate the cheeses, using goat cheese or roquefort, for example. The cheeses that that work well most of the time are hard cheeses such as gruyère, cheddar, or emmental.
What to serve with it?
If you are having this ham, egg, and cheese casserole for breakfast, it can be as simple as serving it with a cup of tea/coffee and yogurt for a quick and healthy breakfast. You can also serve it with a smoothie or freshly pressed orange juice.
How to store it?
Let the breakfast casserole cool before you place them in an airtight container designed for the freezer, and it should last for about a month or so.
When ready to eat, thaw the breakfast in a refrigerator overnight and bake at 350ºF (175°C) for about 20 minutes until warm. (You can also use a microwave.)
Similar recipes
If you like this recipe, you may also like: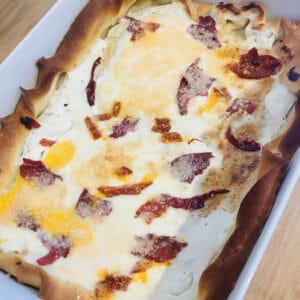 Ham egg and cheese breakfast casserole
An easy French quiche recipe with smoked salmon and spinach that the whole family will love.
Ingredients
1

deep dish pie crust

250

g

9 oz of smoked ham

10

eggs

1

cup

of sour cream

1.5

cups

of shredded cheese

either goat cheese, gruyère or cheddar

Optional 300 g (10 oz ) of spinach

1/2

teaspoon

of ground garlic

Pinch

of salt and pepper
Instructions
Preheat the oven at 180C (375F).

Place the pie crust in a large casserole dish.

Beat the eggs and sour cream in a large bowl.

Add the garlic, salt, and pepper into the bowl.

Cut the smoked ham into small thin cubes.

Add the ham (and optional spinach) onto the pie crust.

Spread the mixture across the pie crust.

Place in the oven for 20 minutes.

Take out of the oven and add the cheese on top.

Place in the oven for another 15 minutes or until the top crust of the eggs look cooked.

Serve while warm.
Nutrition
Serving:
1
g
Calories:
4936
kcal
Carbohydrates:
267
g
Protein:
696
g
Fat:
152
g
Saturated Fat:
36
g
Polyunsaturated Fat:
98
g
Cholesterol:
753
mg
Sodium:
58147
mg
Fiber:
163
g
Sugar:
29
g
Other ham recipes
If you enjoyed that, check out our other classic recipes that you can make easily. Bon appétit!