Air fryer garlic herb pork loin roast
Get the recipe for this delicious pork loin roast that can be prepared quickly in the air fryer. With accompaniments, tips, and more.
(As an Amazon affiliate, we may earn commissions on purchases. See our disclosure policy for details.)
This Recipe includes
| | |
| --- | --- |
| | Pork loin, approximately 2 to 3 pounds in weight |
| | Vegetable oil with a high smoking point like avocado, sunflower, or peanut oil. |
| | Garlic powder or flakes |
| | Dried oregano flakes |
| | Onion flakes or powder |
| | Smoked paprika powder |
| | Dried basil |
| | (Optional) Dried coriander, also known as cilantro |
| | Pinch of salt and pepper |
Cooking tips
Preheat the air fryer to 360°F (180°C) before cooking the pork loin. This helps to ensure that the pork loin cooks evenly and becomes crispy on the outside.
Rub the pork loin with a mixture of olive oil, herbs, and spices before putting it in the air fryer.
Use a meat thermometer to check the temperature of the pork loin to ensure it reaches an internal temperature of 145°F (63°C) to make sure it is fully cooked and safe to eat.
Why we love it
Pork loin is a delicious and versatile cut of meat that can be cooked in a variety of ways. One of the easiest methods for cooking pork loin is in an air fryer, which produces tender and juicy roast that is packed with flavor.
Apart from the speed and convenience of cooking in the air fryer, the meat is cooked evenly with a beautiful golden crust in a fraction of the time it would take to cook in a conventional oven.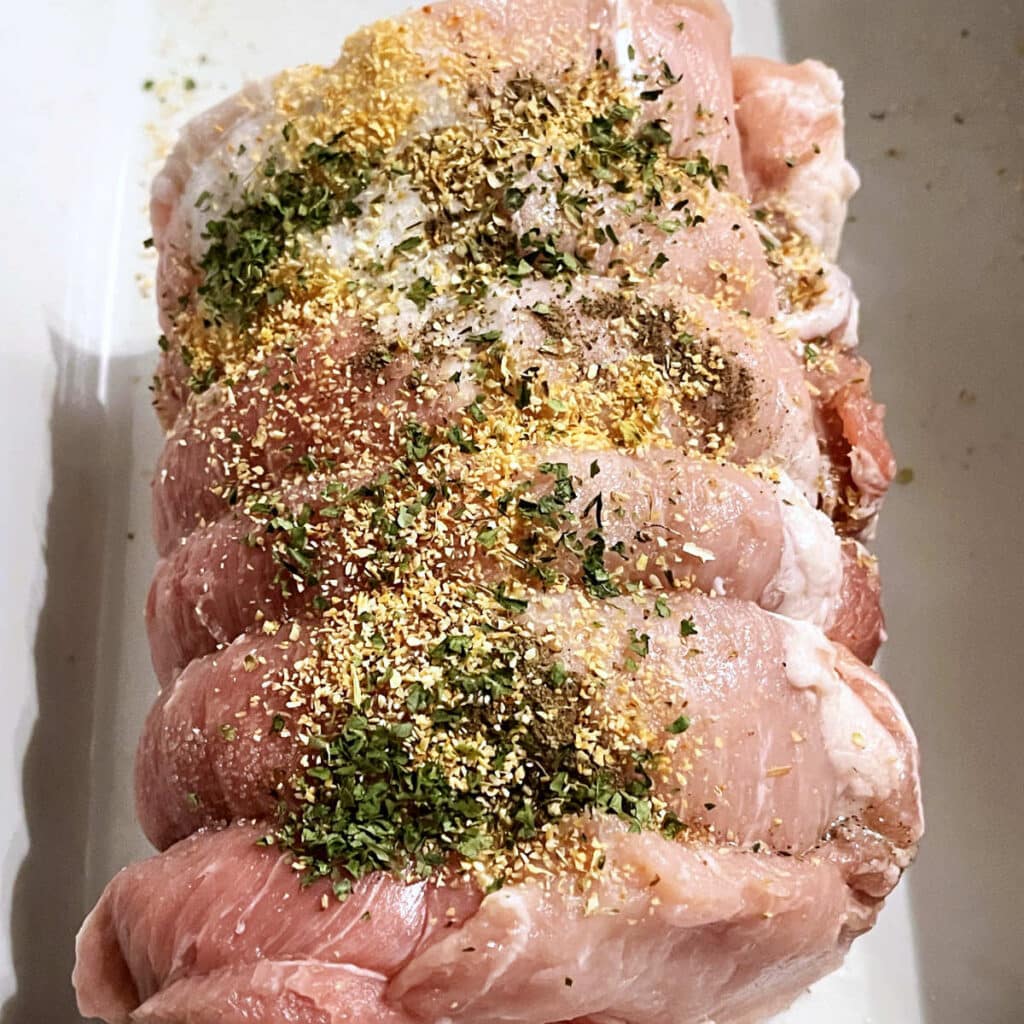 For a crispy and caramelized exterior on the pork loin roast, a spice rub with oil is lightly coated on before placing in the air fryer. It makes it an excellent choice for anyone looking to eat healthier without sacrificing taste.
What to serve with it?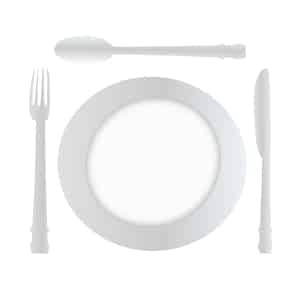 How to store it?
This air fryer pork loin roast can easily be prepared in advance, and can be eaten both cold or warm. Keep everything in airtight glass containers until ready to eat.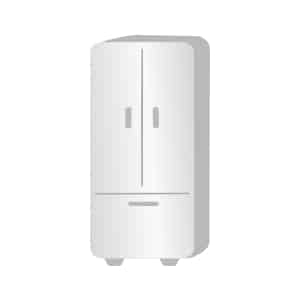 Similar recipes
If you like this recipe, you may also like:
Air fryer garlic herb pork loin roast
Cook pork loin in the air fryer in a delicious garlic and herb marinade.
Ingredients
1 pork loin approximately 2 pounds in weight
2 tablespoons of vegetable oil (avocado or sunflower oil)
1 teaspoon of garlic powder
1 teaspoon of dried oregano
1 teaspoon of onion powder
1 teaspoon of smoked paprika
1 teaspoon of dried basil
pinch of salt and pepper
(Optional) 1 teaspoon of coriander
Instructions
If your roast has a layer of fat or skin on top, cut the top crosswise in slits, every 1/2 inch or so.
Place the pork loin in a bowl and cover with the oil, spices, and herbs. Massage in the spices and herbs into every part of the pork.
Preheat the air fryer for 5 minutes at 360°F (180°C).
Place the pork loin in the air fryer basket for 45 minutes, shaking and rotating them every 15 minutes or so.
Open the air fryer and check if the pork has an internal temperature of 145°F (62°C), and heat it for a couple more minutes if you wish.
Serve while warm.
Nutrition Information:
Yield:

4
Serving Size:

1
Amount Per Serving:
Calories:

109
Total Fat:

9g
Saturated Fat:

1g
Trans Fat:

0g
Unsaturated Fat:

7g
Cholesterol:

17mg
Sodium:

30mg
Carbohydrates:

2g
Fiber:

1g
Sugar:

0g
Protein:

6g
Note: We are not certified nutritionists and these estimates are approximate. Each individual's dietary needs and restrictions are unique to the individual. You are ultimately responsible for all decisions pertaining to your health. This website is written and produced for entertainment purposes only.
Other pork recipes
If you enjoyed that, check out our other delicious air fryer recipes that you can make easily. Bon appétit!